Rebuilding Your Norristown Business After a Natural Disaster | SERVPRO® of Norristown
2/18/2021 (Permalink)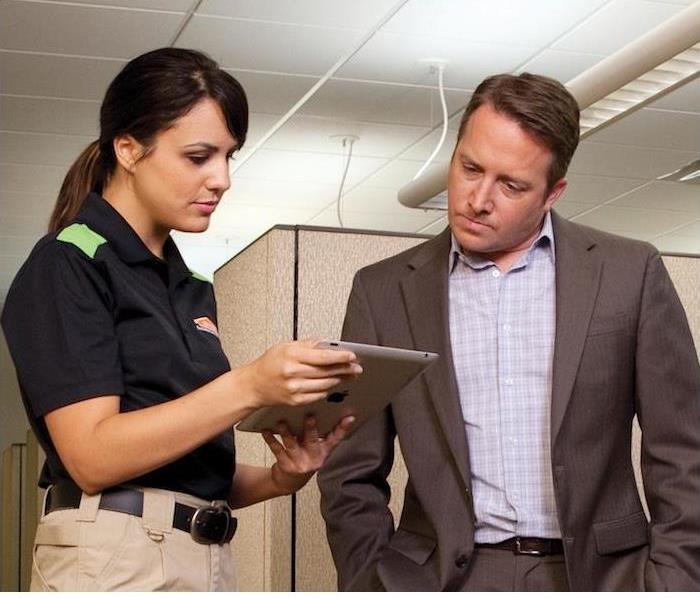 SERVPRO of Norristown knows the commercial restoration process inside and out. Here are some of our tips on choosing the right restoration company.
Have you created a business disaster plan?
If you're a new business owner, you might not understand how important it is to have a plan in place to deal with disasters like fires or floods. Starting before you need a disaster plan is vital, so now is a good time to put together the steps you'll take if a fire or flood impacts your business.
But the shock of a disaster actually impacting your business can make it difficult to navigate even the most thorough plans. That's where working with a disaster restoration expert can make a difference.
Spurring Your Business Forward After a Disaster
Because our SERVPRO location is a locally owned business, we want to ensure businesses in our community have what they need to succeed. Here's some of the best advice we can give business owners working to restore after a disaster:
Go back to your disaster plan. The shock of going through a natural disaster can make it difficult to focus. This is why your disaster plan is so important. Follow the steps you've already laid out. That can even include moving to a backup location.
Document everything that happened. Before you begin cleaning up your business, you'll want to take photographs of the damage and inventory any damaged items. Your insurance company will need this information.
Stay in contact with your community. Technology makes it easy to reach out to your suppliers, your employees, your customers and your community. You can make phone calls and use your marketing email list and social media accounts to reach everyone.
Don't neglect your needs. It's easy to fall into the trap of worrying constantly, but you won't make the best decisions if you're tired or stressed. That's why business owners going through a disaster need to prioritize getting plenty of rest, eating healthy foods and talking with people you trust.
Partner with a strong support system. Because there are so many aspects of the process to manage, it's best to work with trusted community partners who foster strong communication.
If a fire, flood or any other cause damages your business, you can always count on us for restoration assistance. We have crews who are available 24⁄7 in the event of an emergency. Contact us at any time to learn more about our restoration services and how we can help you.