Water Damage Cleanup for Your Norristown Home After Gutter Failure
3/31/2018 (Permalink)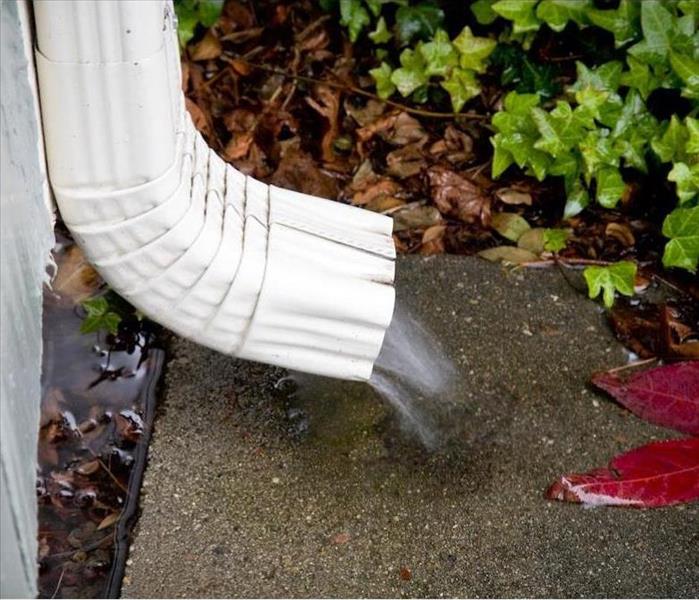 Check your gutters regularly to make sure that water is being diverted away from the home. Contact SERVPRO for remediation when you have water damage.
Regular Gutter Maintenance Can Help Prevent Water Damage to Your Home
The gutters on your Norristown home typically have the job of directing water away from your roof and structure as it runs off the edges. It works well until the gutters become blocked with debris like branches and leaves and a dam forms. Water is now running over the edges of the gutters and starts running down the side of your house. A crack or hole in your gutters can cause the same problem.

If you see water marks on the paint inside your home, you may have a problem with your gutters. Water damage in Norristown during these situations can do structural damage which needs to be handled right away. Water can even build up around the base of your home, causing leaks at the foundation. SERVPRO staff can help you repair the water damage and get your home dry again in a timely fashion, so call us anytime you need.

When water has seeped into your walls, you could be looking at damaged insulation as well. Moisture lessens its insulation power. It might need to be removed, especially if it has become matted. Fiberglass insulation, however, unlike other kinds, might not lose its insulating power indefinitely. We might be able to dry it instead.

When cellulose and Rockwool insulations get wet, they can easily mat. Plus, the moisture affects its resistance to fire and the antimicrobial qualities of the cellulosic material. Metal is also present in Rockwool, so if it is wet, it may rust. Replacement may be needed for these types of insulation.

SERVPRO techs cannot always restore fiberglass insulation. Vapor barriers on it slow the drying process. Drying insulation in walls that are fully enclosed or in ceiling cavities can be difficult. Preventing mold is also one of our main concerns here.

We need ventilation to dry your wall cavities properly. One way to do so is to remove baseboards and drill holes between each stud. We then force air through the holes into the wall to speed up evaporation. If there is much moisture, areas of drywall might have to be removed.

SERVPRO of Norristown is careful to find all the moisture in your home in Wetherills, Audubon, or Bethel Hill and ensure that we have thoroughly finished the drying process after a water disaster. Get in touch with us as soon as you can at (610) 272-8520 so we can get there quickly.

Click here for more about Norristown.