Commercial Water Damage Cleanup for Your Norristown Business
3/25/2018 (Permalink)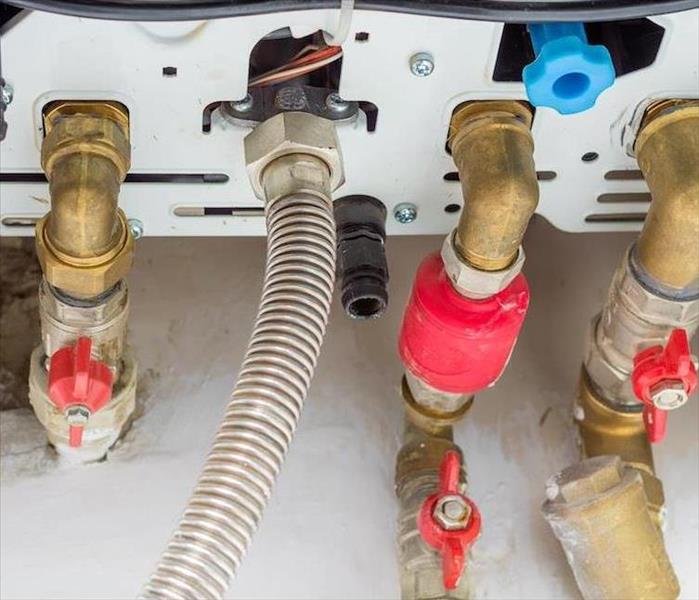 If the pipes on your commercial water heater spring a leak or if the unit has another problem which causes water damage, contact SERVPRO right away.
SERVPRO Technicians Assess the Water Damage at Your Business to Properly Calculate Necessary Equipment for Efficient Remediation
When you frequently need to heat the water in your building in Norristown, you want systems which are dependable. Your business needs a water heater for normal operations, from heating to cleaning up to cooking, you cannot be without a working water heater. Plus, if this appliance should fail, you have a big mess on your hands to clean up.

Whether it is a slow leak or a burst, your water heater can create a great deal of commercial water damage to your Norristown business. You cannot afford much downtime, so leaving the cleanup job to professionals is essential. At SERVPRO, our trained staff is always standing by to help you out when your business is going through a water damage disaster.

After the standing water is extracted from your property, we need to calculate requirements for dehumidifiers so we can thoroughly dry the structure. We consider both the capacity of the dehumidifier and the nature of the environment.

One factor which defines the nature of the environment is how much absorbent or porous materials are present like unfinished wood, carpeting, and paper. The more absorbent materials present, the more moisture that is absorbed and has to evaporate when air movement is applied. Water damage that affects a lot of porous materials increases the need for more dehumidification for balancing evaporation.

SERVPRO staff also need to determine the class of water damage. Other factors, such as how much structural damage there is and whether water is trapped in the ceiling and wall cavities help us to determine this. To know how many dehumidifiers are needed for the initial setup, we figure out the class of water damage. We do this by looking at how many porous items are wet, instead of by the category, or cleanliness, of the water.

We also measure dehumidifier capacity by either the number of cubic feet of air the dehumidifier conditions per minute or by how many gallons of water removed in twenty-four hours under standard AHAM test conditions.

SERVPRO of Norristown works quickly but efficiently to dry your property in West Norriton, Trooper, or Bethel Hill back out. We understand that time is money, so when you call us at (610) 272-8520, we do not hesitate to help you get your business back in order.

Click here for more information regarding the city of Norristown.