Fire Damage Problems in East Norriton
4/13/2018 (Permalink)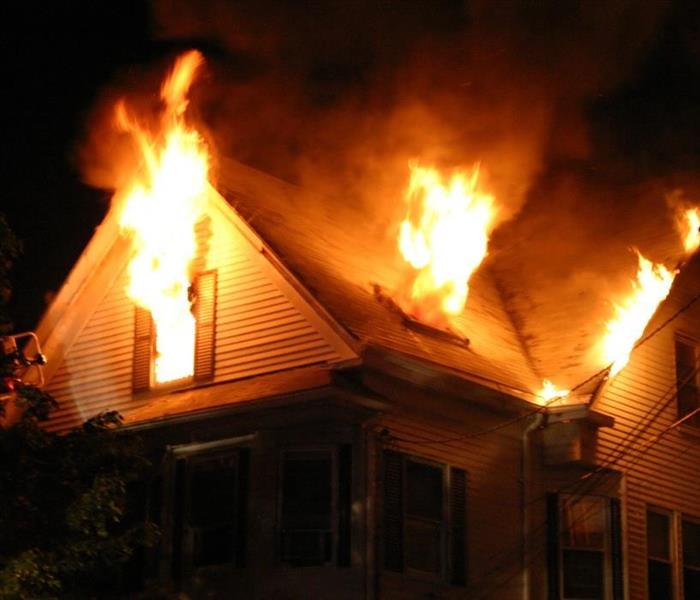 Heat and flames can leave your home charred and damaged, call the professionals at SERVPRO for expert fire damage restoration.
Call on SERVPRO for Thorough Fire Damage Restoration
There are many elements of a fire that possibly cause problems at your East Norriton home. The excessive heat and flames that come from the blaze often burns and chars building materials and contents requiring removal of the items. Smoke created by the fire flows to other areas of the house and leaves behind pungent odors.
Smoke also leaves soot residues behind on surfaces inside the home. SERVPRO's fire damage technicians in East Norriton have experience in dealing with different types of smoke restoration projects. Many times if the soot residues left behind from a blaze get dealt with appropriately, the residues get cleaned so that the materials do not need to get removed and replaced.
When SERVPRO's restoration technicians first begin a restoration project, we start by removing any materials that get severely burnt or damaged by heat. Next, we figure out the best chemicals and methods to use based on what type of fuels burned and caused the smoke damage. Since heat rises, one of the first sections of your home we inspect are the walls and ceilings.
Soots and soils usually adhere to the ceiling and upper parts of the wall first, then make their way down to lower sections of the walls. Wall and ceiling surfaces sometimes are made of many different materials, and there is a variety of possible textures. We start our cleaning process by pre-test cleaning small sections of an area. By pre-testing, we gain the knowledge of what chemicals and methods work best in each specific scenario.
When pre-test cleaning surfaces we try three different methods and see which one is the most effective. The first method we attempt is dry sponge cleaning. Dry sponges usually work to clean ceilings of all types that have light to medium non-grease-based soiling. Sometimes we pre-clean using dry sponges before wet cleaning begins.
Our IICRC certified technicians use wet cleaning on painted, metal or wood ceilings with heavy dry ash or soot residue or light to heavy oil-based residues. When cleaning acoustical ceilings and other porous and non-porous ceiling surfaces we use peroxide active cleaning. Sometimes wet cleaning can ruin acoustical surfaces, in this case, we use active peroxide cleaning instead.
During most soot cleaning operations, we utilize many different methods to complete the project. For help cleaning soot residues call SERVPRO of Norristown at (610) 272-8520 24/7.
Click here for information on East Norriton.