Remediating Norristown Flood Damage From Failing Plumbing
6/5/2018 (Permalink)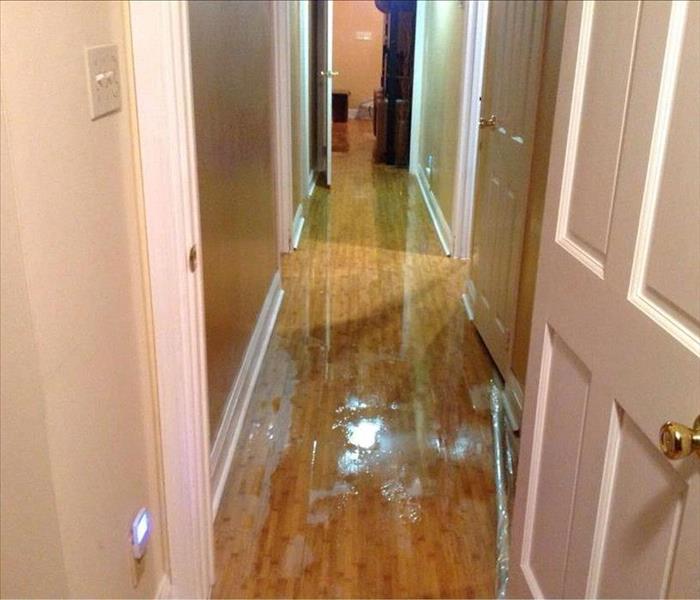 SERVPRO has the equipment and knowledge to remove flood damage from all types of flooring like this hardwood floor.
How SERVPRO technicians can remove flood damage from your home
Despite the exceptional rains and other extreme weather of the last two years, Norristown homes still suffer more damage from a leaking appliance or a burst pipe than the nearby Schuylkill River cresting its banks after a thunderstorm.

No matter the source, Norristown flood damage can cost every homeowner a hefty amount of cleanup and restoration costs. SERVPRO has not just the training, but also the experience to quickly remediate your home's damage and still keep the costs as economical as possible. Our office also works with you and your insurance company to meet everyone's requirements. If you live near River Front Park, Grand View Heights, or any area in-between, our team can help.

We begin at each home with removing standing water. Our office maintains a range of pumps to match each job, and as the water recedes, we switch to extraction wands to finish drawing out most of the remaining water from carpets and between floorboards. As the team completes this task, one of our inspectors turns off or blocks the source of the water, be it a rusted water heater or a split, washing machine hose that sprays water over the entire garage.

As they remove the last of the water, other team members raise furniture and other property onto pallets or remove them from home. This action prevents color from fabrics leeching onto carpets and floors, staining them. Technicians then set up fans to increase air circulation and air movers to blow warm, dry air over surfaces to speed up the drying process without causing wood frames to crack or furniture varnish to bubble or run.

Now, SERVPRO specialist begins drying the carpets and floors. Our team removes area rugs and hangs them outside or places them on a rack at our offices, using fans to reduce the drying time. For wall-to-wall carpeting, we carefully lift entry and exit points opposite each other. Technicians then use an air mover to force warm air underneath the carpet to dry it while an exhaust fan draws out the damp air. If the pad underneath has already begun to deteriorate, our team rolls up the carpet and disposes of the pad first.

Remediating the effects of flood damage is a careful process that needs professional service. The goal of SERVPRO of Norristown is to return your home to a dry, safe condition so you can return to it. If you need us, call (610) 272-8520 today for more information or to set up a visit. We are here for you.
See local businesses in Norristown by clicking here.