Effective Ways to Remediate After Fire and Water Damage Affect Your Norristown Home
1/18/2019 (Permalink)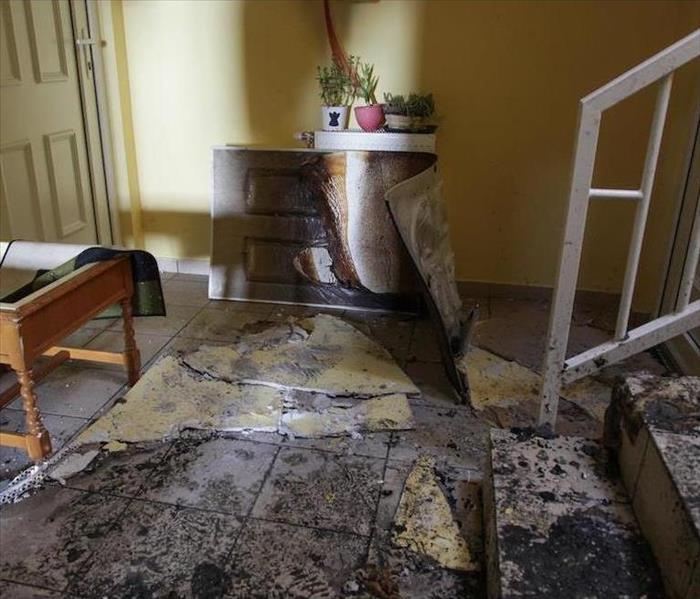 Don't be surprised by the necessity to deal with water damage after a fire in your home. Contact our certified team to assess and remediate.
Dealing With the Elevated Humidity That Occurs With Fire Damage in Norristown Properties
After a fire burns in your house in Norristown, you might expect the interior to feel bone-dry. The amount of water vapor in the air can surprise you if you do not expect damp air. While it certainly diminishes over time, this happens slowly. SERVPRO includes the elimination of this water vapor during regular mitigation services.

We always consider the entire project when we mitigate a property, and fire damage in Norristown is a multi-faceted disaster. Not only do we find direct contact between water and your belongings, but the steam ends up all over your home. It travels along with the smoke and then continues to disperse.

Some of the damage happens immediately, including making photographs adhere to the glass in their frames, curling the pages of your books, and soaking your floors, leading to weakened areas. Additional destruction of your property happens when the steam cools and condenses, especially on materials that remain warmer than other items. This can lead to rusting of anything made of metal and staining and color bleeding of household textiles (including upholstered furniture). Metal hangers can ruin otherwise perfect pieces of clothing.

SERVPRO specialists have IICRC training, so we know the importance of ridding your home of not only what the fire consumed and ruined, but to also re-establish normal moisture levels inside your home. Doing so also assists us in eliminating odors caused by the presence of unwanted water. Mold and mildew often proliferate after a fire, but lowering the amount of available moisture halts the growth of microbes.

Our hydroxyl machines make the air inside your home more pleasant for us to breathe as we work, but does nothing to eliminate the amount of water vapor. For this, we need desiccant machines and dehumidifiers. At times, we might need to use heated mats. We also use warmed air that we direct into enclosed spaces.

Once we eliminate the excess water vapor, our Odor Control Technician (OCT) can use thermal fogging to rid your home of smokey odors. Before, the air and your home's structure and contents' high moisture content might interfere with the effectiveness of the chemicals in the fog. As a steam, this fog contains moisture, although in a meager amount.

SERVPRO of Norristown can help resolve the issues of damage from fire, water, and smoke, which can turn any home in Bethel Hill, Evansburg, or Norritonville into a mess. Call us at (610) 272-8520 when you want a team with experience in all aspects of fire damage to restore your home, so it looks "Like it never even happened."

Click here for more about Norristown.