You Need to Contact Our Specialists if Your Norristown Home Has Experienced a Fire
8/28/2019 (Permalink)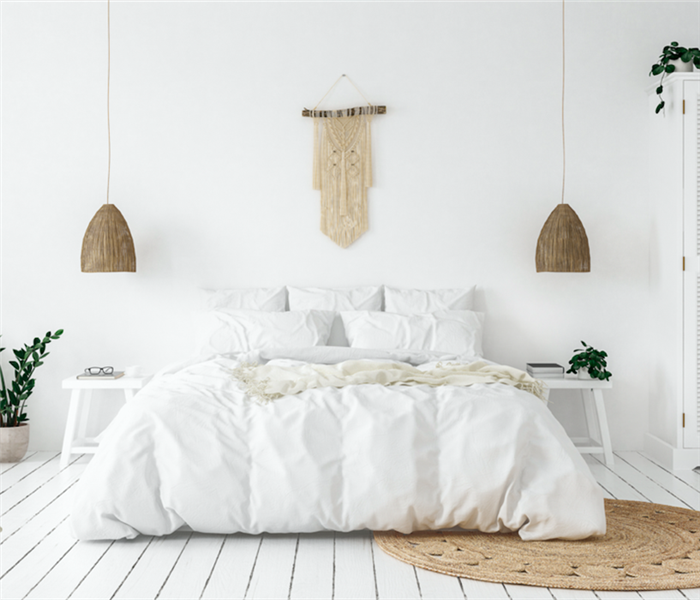 If fire damage happens to your bedroom don't try and clean it up alone. Call SERVPRO today for remediation assistance.
Fire Damage in Norristown Bedroom Needs Fast Cleanup
After fire damage happens in a home, all you want to do is get past it and get life back to normal. That cannot occur until the removal of charred items, and smoke odors happen; otherwise, any reconstruction done to the room could emanate residual odors.
When SERVPRO handled fire damage cleanup in a Norristown bedroom caused by an electrical fire, there were numerous challenges our technicians faced to get the room restored and ready for reconstruction.
Since hot air expands, this action drives soot deeply into porous objects
Paint on the walls has the potential to harbor odor-causing soot sometimes requiring sealing before repainting
Depending on the type of residue, dry and wet smoke need different cleaning methods for the best outcome
Due to the nature of the fire caused by an overheated plug, and the subsequent lack of electricity in the home, we brought our own generators to power our equipment. There was a limited amount of water to extract left behind by the fire department when they extinguished the fire, but it did little additional damage. Our moisture detection equipment confirmed no excessive moisture remained after extraction and drying.
We cut away the charred sheetrock and removed the bed. However, the property owner was thrilled to learn our technicians felt his vintage solid iron bed held restoration potential through our proprietary cleaning methods. Much of the bedroom was a fire loss, and everything from the charred carpet to the burned curtains required disposal.
Although the fire did not affect the clothes in the closet, we recommended the homeowner have them professionally dry cleaned and removed other items for cleaning and disinfection outside of the job site. Then we performed odor treatment applications to ensure the rebuilding of the bedroom occurred; no residual reminders of the fire remained.
SERVPRO of Norristown is ready 24/7 to help local property owners with fire damage cleanup and restoration. Call us at (610) 272-8520, and we arrive within an hour because We're Faster to Any Size Disaster.
Click here to learn more about Norristown.