We Are Prepared To Restore Your Lower Providence Township Home 24/7
10/10/2019 (Permalink)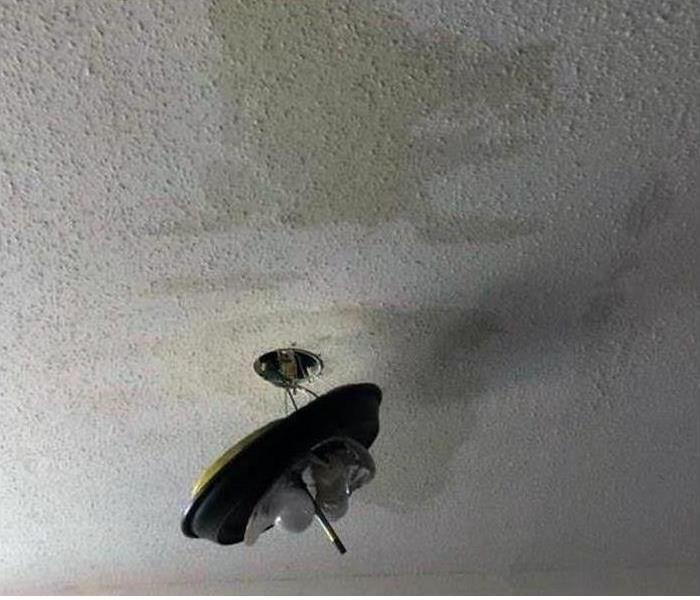 Moisture in the ceiling was caused by a second-floor plumbing leak. We arrived right away and began restoration.
Water Removal Techniques That Limit Loss in Lower Providence Township Homes
The need to clean up water damage in a home will arrive for most homeowners during their property ownership in one form or another. Malfunctioning appliances, tree limbs growing into pipes gradually blocking sewage from leaving may cause a toilet to back up, and another common reason is a leaking roof or damp basement causing both water loss and encouraging mold growth.
When the need for water removal in a Lower Providence Township home arises, it is best to outsource the task to a professional restoration services company to ensure complete water extraction and drying occurs.
Why SERVPRO?
Before a technician sets foot onto a job site for customers, they have undergone extensive training both in a classroom setting and hands-on scenarios to teach them how to correctly use each piece of restoration equipment and the best practices for limiting loss in every type of home disaster situation. This type of training brings a mindset that restoring rather than have property owners incur costs for replacement of items which in turn saves money.
Specialized Equipment for Water Extraction
Removal of water damage is a crucial element for the complete drying of the loss area. SERVPRO technicians do several passes using different types of equipment such as weighted extractor heads for carpeting, squeegees for tile and wood flooring.
Wood Flooring May Not Be a Loss
Hardwood flooring, even with sealant, has the potential to be highly absorbent and swells and buckles with moisture. Unless the exposure to water occurred for a considerable length of time, it often has restoration potential if the floor receives the correct extraction and drying techniques.
Specialized Drying Techniques After Extraction
To adequately dry a structure and its contents, correct applications need to occur. SERVPRO technicians know that covering hardwood flooring with plastic and concentrating the flow from the air movers in tandem with desiccant dehumidifiers works well because of the low-evaporation nature of hardwood flooring. Drying mats also work on drying most types of flooring rapidly after detailed water extraction efforts.
SERVPRO of Norristown is ready to perform fast water removal in local homes 24/7 by calling (610) 272-8520. The certified technicians have the extensive array of cleanup equipment and restoration knowledge to the water loss in the house. "Like it never even happened."
See more about Lower Providence Township.