Some Ways to Remediate Water Damage in Lower Providence Township with Team SERVPRO
12/8/2019 (Permalink)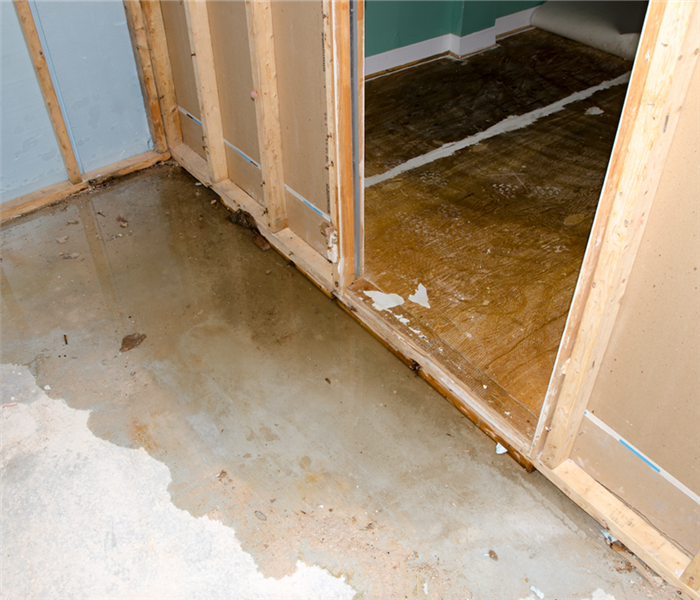 When your home has water damage, it can be quite frustrating. Pick up the phone and call our SERVPRO team for remediation services.
Removing Water from Concrete Block in Lower Providence Township
Knowing what to do when pipes burst inside of interior block walls in your Lower Providence Township finished basement can protect these materials, and other areas of the property, from becoming too severely damaged by migrating water. With cells lined up in a single hollow column, yet cut horizontally to make room for hidden plumbing, entire portions of masonry walls can fill with water after unexpected breaches in the pipes.

Flooding can affect exterior concrete walls in this same way, so knowing strategies for water removal in Lower Providence Township homes can help. In some situations, depending on the ability and experience of homeowners in repairing accessible plumbing breaches, removing water and drying block are steps that property owners can take without the direct involvement or oversight of qualified technicians like our SERVPRO team.

Because of cell openings creating cavities that span the entire height of the wall, much of the water present within these cells can get removed by puncturing small holes in the bottom course (row) of blocks. The traditional installed concrete masonry unit (CMU) has two cells and webbing in the center, meaning that each block along the bottom course requires one drilled hole for each of these cells. The best approach is with the use of a hammer drill power tool, which can either get rented from a hardware store or purchased directly.

Our SERVPRO team would take a step further to utilize our advanced drying techniques like the Injecti-Dry system to ensure that the moisture inside of these CMUs has gotten addressed appropriately. Our team is available for inspection should you need a second opinion or our cutting-edge moisture detection technology for an accurate depiction of dampness and any additional measures that should get taken to ensure secondary effects like mold growth do not develop.

There are many situations in which masonry walls in your finished basement could get water damage. Removing this water often involves both draining out this material and finding a suitable drying solution before resealing your holes. Give our SERVPRO of Norristown team a call if we can help in any way at (610) 272-8520.
Click here for more information about Lower Providence.