Is Water Damage Being Stored in Norristown Storage Facilities
3/16/2020 (Permalink)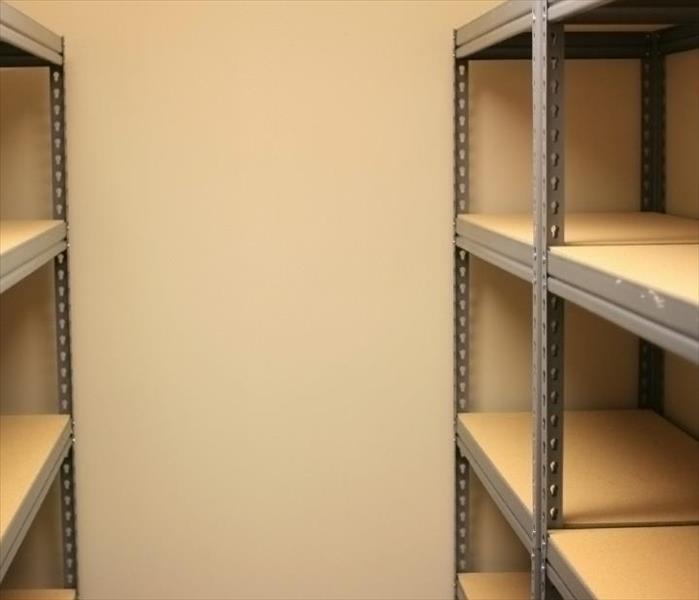 A little water and humidity can damage items in storage units. Call SERVPRO for Fast and Effective Remediation
Commercial Water Damage Norristown – Flooded Floors
Heavy rains can cause water to accumulate inside buildings in situations where there is improper drainage. A storage facility with a variety of products stored on the floor to ceiling shelving may only have an inch or so of water on the cement floors. However, if the not quickly clearing the water and lowering the humidity, the packaging and the products can be damaged even though water did not touch the packaging.
SERVPRO provides commercial water damage recovery services to Norristown and surrounding areas. Fast action in situations where water is covering the floor can significantly limit the damage to the structure as well as products. Our teams are available on a 24 / 7 basis and can usually be on-site in less than four hours. Removing standing water and lowering the humidity is a high priority for our teams to protect your products and limit the downtime for your company.
Storage Facilities Present Unique Challenges
We remove standing water with water extractors. It is essential to check for remaining moisture pockets under shelving, desks, and cabinets. Eliminating these moisture pockets and reducing the overall humidity in the building is essential. We deploy large air movers to circulate air within the building to absorb moisture. We use truck-mounted dehumidification machines. External truck-mounted air movers are used to extract moist air from the building and replace it with dry outside air.
Paper products or packaging immersed in the water may have absorbed moisture. Typically, these are products on the bottom shelves of floor to ceiling shelving. SERVPRO checks and removes all potentially damaged packaging. We inventory each item while removing it to provide a record for insurance claims and inventory control.
Since floor to ceiling shelving is challenging to remove, SERVPRO deploys specialized air movers to direct air under the bottom shelves. We adapt our solutions to fit your environment so that you can return to normal operations as quickly as possible.
Call SERVPRO of Norristown at (610) 272-8520 for 24/7 service. We proudly serve Lower Providence Township, Wetherills Corner, and surrounding areas. We're Faster To Any Size Disaster.
More about Norristown.