Does Wearing Hazmat Gear Make Environmental Cleaning in Norristown Safer?
4/9/2020 (Permalink)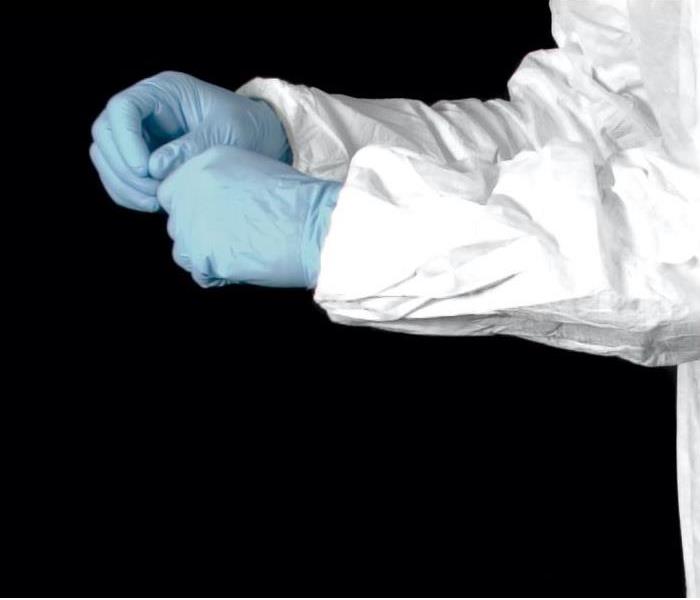 SERVPRO of Norristown technicians wear different kinds of gloves depending on the type of biohazardous cleaning and disinfection required
SERVPRO Crews Don PPE Personal Protective Equipment for BioHazardous Microbial Sanitizing and Disinfecting
Amid the pressures of a current virus crisis, Governor Tom Wolf has determined that non-essential businesses and facilities in Norristown and throughout the state will close temporarily. Essential businesses will remain open. This puts a demand on our business community to maintain safe working and shopping conditions.
Professional Disinfecting to Meet the Challenge
As a business owner responsible for disinfection and cleaning your Norristown business, you might feel overwhelmed by the magnitude of this task and how it differs from the regular upkeep and maintenance of your building. Our SERVPRO professionals have an extensive roster of qualified cleaning technicians that can handle the disinfection and sanitizing projects of any size to ensure that your facility reduces risk to employees and customers.
Through the Institute of Inspection, Cleaning and Restoration Certification (IICRC), we have trained multiple experienced technicians in biohazard and environmental cleaning and recovery. We can remove pathogens, microbes, and harmful microorganisms from surfaces using medical-grade cleaning products that follow CDC and other recommended protocols.
We offer cleaning strategies customized to each client's requirements. For more information, please give our SERVPRO of Norristown team at (610) 272-8520.
Disclaimer: Advice from the medical and scientific community regarding how to deal with the coronavirus is based on present knowledge, which is subject to change as the situation continues to develop. There can be no assurance that disinfectants alone will be adequate to fully eliminate the virus. We are not physicians or infectious disease professionals. Consult your medical professionals for individual medical advice.